Frewen WINS ISA School Award for OUTSTANDING PROVISION FOR LEARNING SUPPORT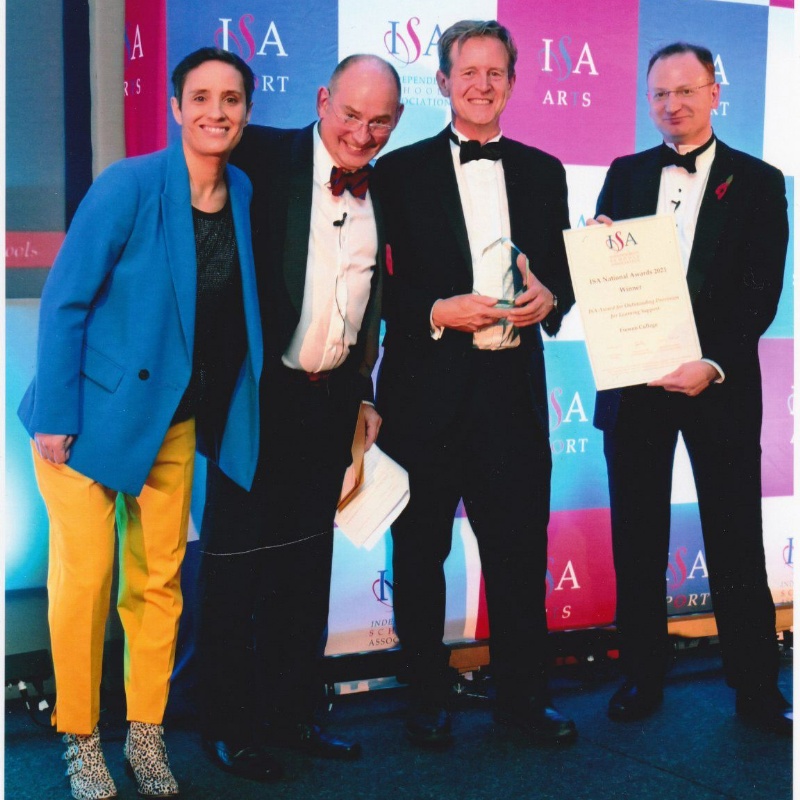 Frewen College has won the ISA Award for Outstanding Provision for Learning Support at the Independent School Association (ISA) Awards. The school was also a finalist in the ISA Senior School of the Year category.
Founded in 1878, the Independent Schools Association is one of the oldest of the independent schools' organisations. The ISA Awards happen annually and recognise the breadth of quality and provision in independent education across the country.
Principal Nick Goodman, who attended the awards ceremony, said: "We are immensely proud to have won this award. Judges were impressed by the support that students can access at Frewen - the specialist, dyslexia-qualified classroom staff; the small classes; our therapy provision, the excellent levels of pastoral support. Frewen is a closely-knit and highly supportive environment, meaning that we know our students inside out."
"Students typically join us having struggled in mainstream education, and well behind their peers. The unique provision at Frewen - in the Prep School, the Senior School or the Sixth Form - enables us to turn this around - for them to start feeling positive again, and make progress, catch up and succeed - and typically to overachieve by a substantial margin."
"Students and staff are delighted that the school had been shortlisted for these awards, and are that Frewen has been recognised in this way. I am privileged to lead such an amazing school, and I would like to take this opportunity to thank everyone - staff, students and parents - for their part in the school's success."
Frewen College was founded, in Rottingdean, in 1910, making it the oldest dyslexia school in the world. It moved to Brickwall House, Northiam, the ancestral home of the Frewen family, after World War 2. The house and estate were donated to the Frewen Educational Trust in the 1970s by Admiral Sir John Byng Frewen. Frewen is one of a small number of schools in the UK specialising in dyslexia. It is a not-for-profit charity, and an independent school, but also accepts students who have applied for and been granted funding by the local authority, based on their needs.
If you would like to know more about Frewen College, you can come along to one of our Virtual Open Mornings on 11th and 12th October.
www.frewencollege.co.uk