Sixth Form residential sailing trip on board Thalatta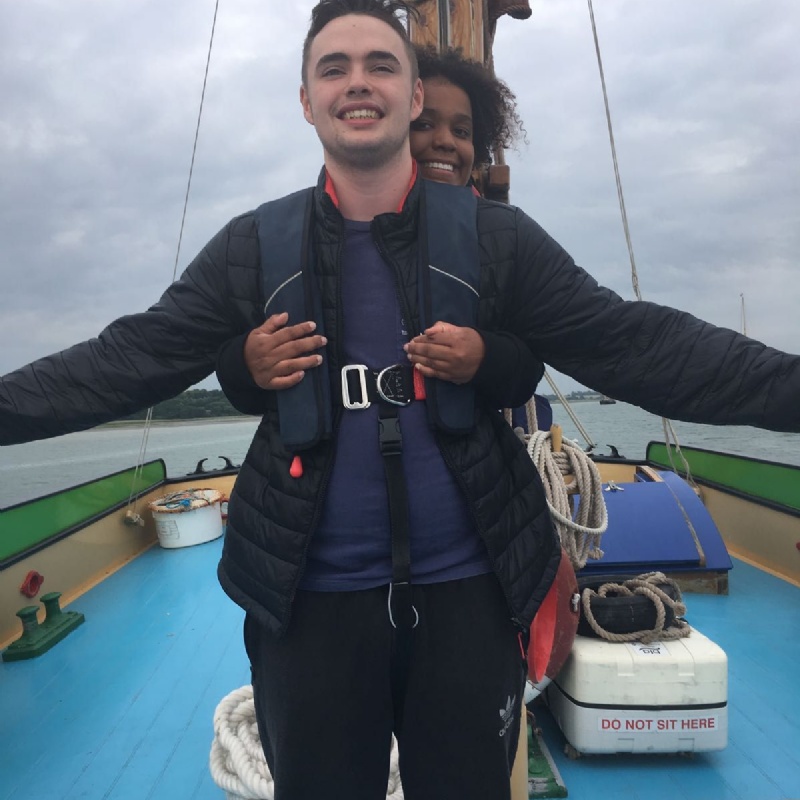 This year's trip started with glorious weather with blue skies overhead as our Sixth Form students sailed out of Ipswich dock on the converted Thames Sailing Barge Thalatta. For many of our students this was to be their first experience of sailing.
Pupils took a step back in time, to a simpler, slower way of life. They slept in hammocks for the duration of the 4 night sail and and kept all their possessions in their own sea chest. Comfort zones were stretched giving students the opportunity to discover more about themselves, each other, and their environment. They all had to think twice about the things we take for granted in the modern world such as unlimited water supplies, electricity, mobile phone signals and wi-fi.
The excited young crew experienced some serious sailing midweek when the wind picked up and the waves in the North Sea grew bigger. One of the many highlights of the trip was when our crew welcomed a royal visitor on board - HRH Sophie, Countess of Wessex, Patron of Dyslexia Action. HRH The Countess of Wessex talked at length with the children and she was shown below deck to see the cramped sleeping conditions, she even hopped in a hammock to try it out! Please see our gallery for more images: http://www.frewencollege.co.uk/gallery/?pid=100&gcatid=3&albumid=12
The students took to crewing with good heart and humour, trying all the vital crewing jobs including hoisting the anchor, setting the sails, swabbing the decks, polishing the brass, preparing meals and washing up!
We are very grateful to the the East Coast Sail Trust for offering these very special educational trips. Much of Thalatta's earlier working life was spent carrying cargoes of grain between London and Ipswich. In 1967 she was entirely restored and re-rigged to take on a different role as a school ship, and today she is the only wooden barge providing education cruises.
Congratulations to every one involved in this fantastic trip of a lifetime!